The Most Versatile Outdoor Dining Table.
We've created the Quadra to uplift your everyday outdoor experiences with those you love.
The company that pioneered Social Grilling® introduces the Quadra, a barbecue grill unlike any.
The newest addition to our family of grilling tables, the Quadra (square in classic Latin) is the most versatile outdoor dining furniture conceived for the home. Beautifully designed and affordably priced, its brilliantly compact form can comfortably seat 8 and is perfect for folks who love to entertain but are constrained by small backyards or patios.
The Quadra's versatility has no bounds… Let us count the ways…
¶ Enjoy social grilling with family and friends: Finally the hosts can enjoy their barbecue parties just as much as their guests!


¶ In the mood for a takeout? The convenient stainless steel grill cover (included) transforms the Quadra into an outdoor dining table.


¶ Want to indulge the kids to an after dinner s'mores party? Let's light up the Quadra.


¶ How about some cocktails outdoors on a chilly evening? Fire up the Quadra for some heat!


¶ Wanna play poker after dinner — around the Quadra of course.


¶ You get the picture… The Quadra will transform the way you entertain — guaranteed!
Small Footprint.
Perfect for homes with small backyards and patios. Also perfect for apartment balconies and terraces. Propane tank conveniently sits under the grill.

Stainless Steel Grill
With 2 U-shaped stainless steel gas burners, each independently controlled, and 4-uniquely designed, isosceles triangle, stainless steel grates, (each 19.5" x14" x 14") create a generous grilling surface to feed a 8 hungry guests.

Aluminum Frame and Legs
And industrial quality, adjustable levelers to prevent table from wobbling on uneven floors.

Power Source
Liquid Propane or Natural Gas.

Built with Maintenance Free Imitation Wood that looks and feels like Hardwood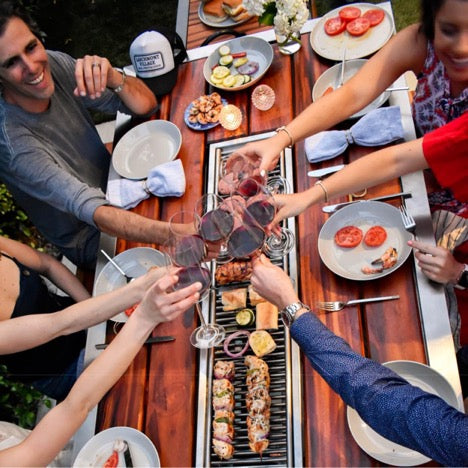 Try the Quadra Risk Free
Your happiness guaranteed.
Social Grilling will enhance the quality of interaction between you and your children.
Guaranteed or Your Money Back. No Questions Asked! *