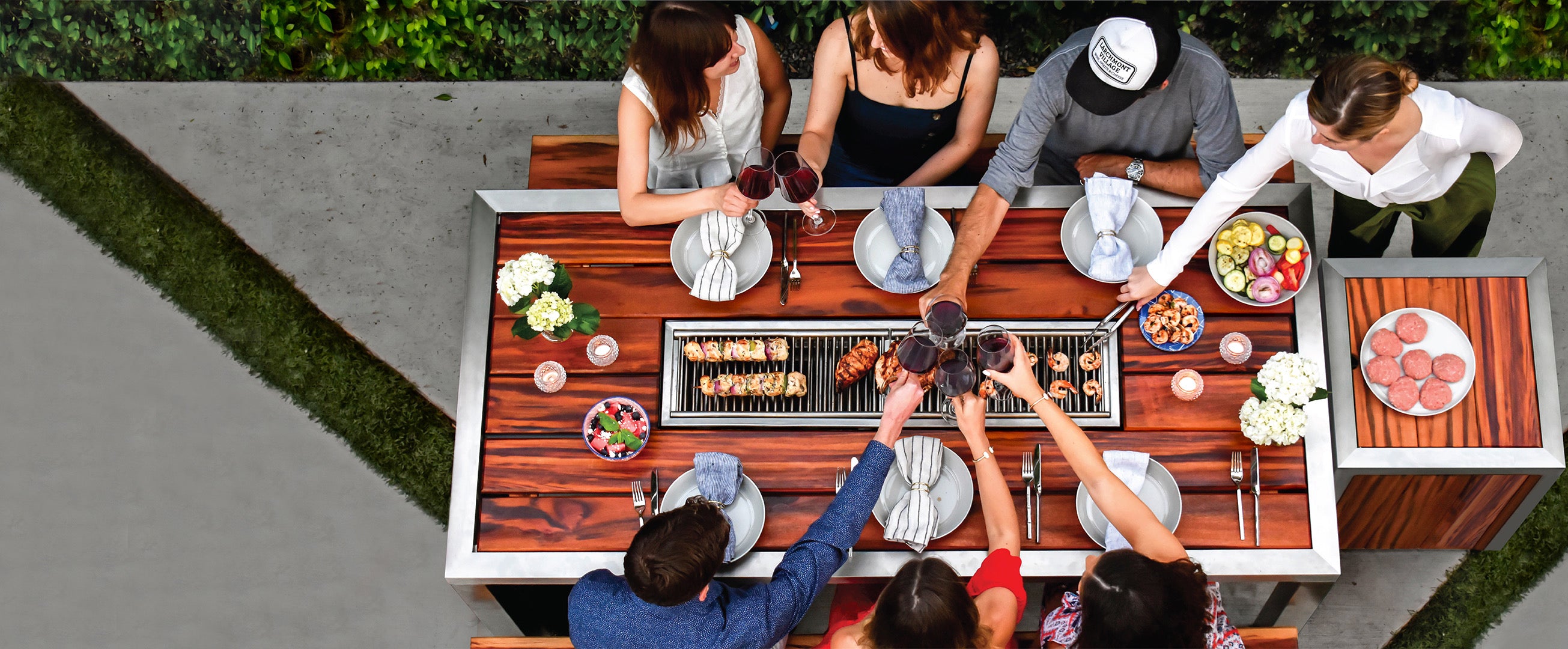 Entertaining at Home
Now a Lot More Fun.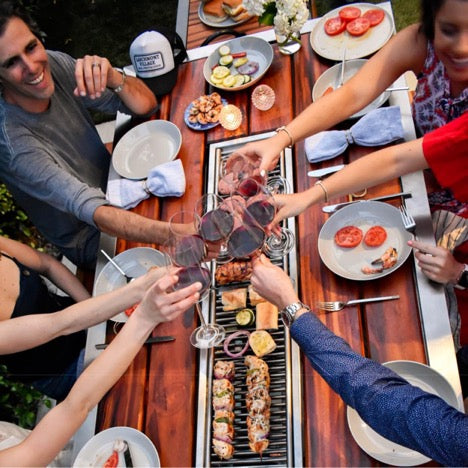 Try Risk Free for 30 Days
Our Happiness Guarantee.
We are so confident that social grilling will transform the quality of your family life that we're happy to offer a no-risk, 30-Day money back guarantee. No Questions Asked! *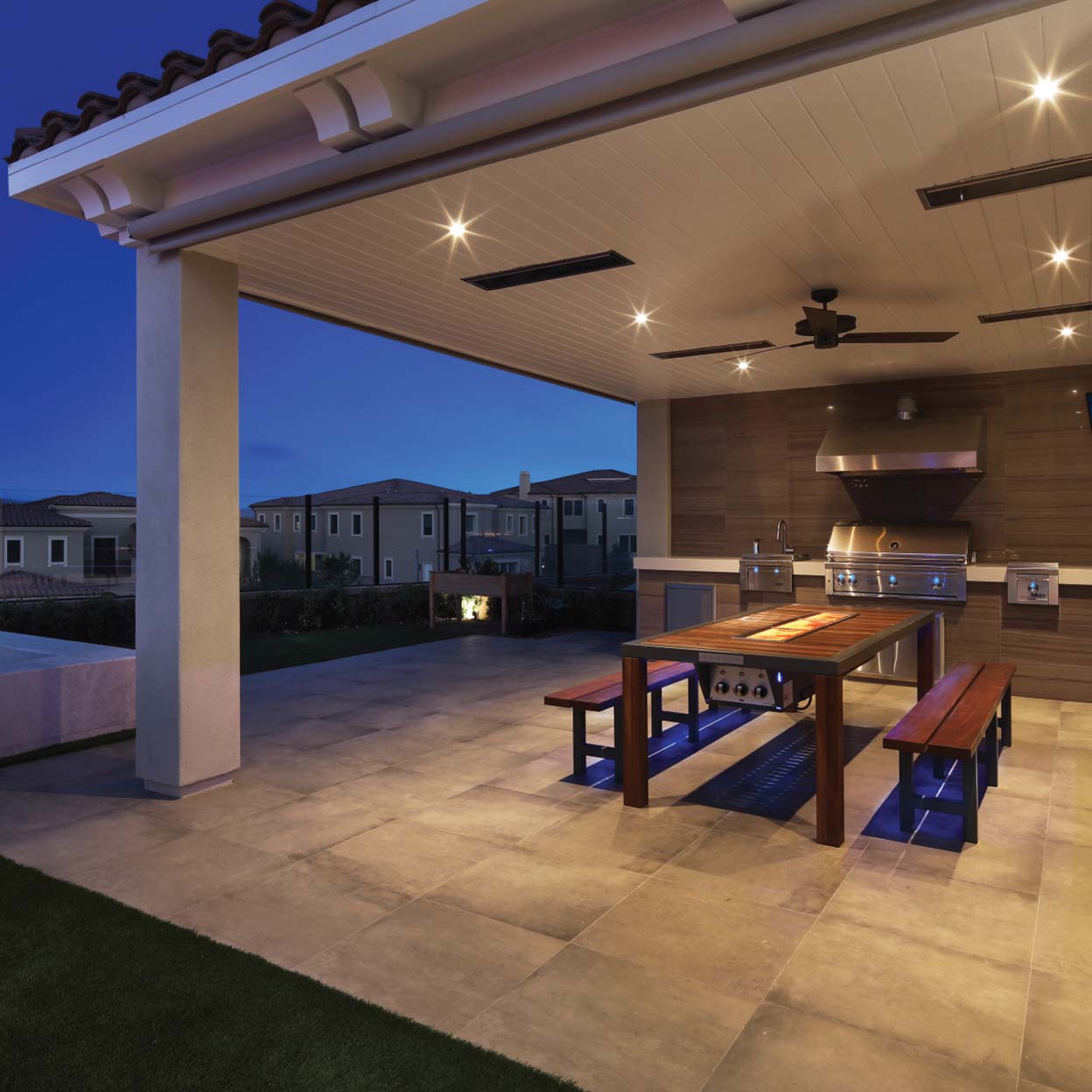 Transform outdoor entertaining into a Michelin star experience.
Elevate backyard barbecue parties into an interactive and immersive grilling experience that's fun for everyone — including you, the host!
Celebrity Chef Steven Raichlen (Author NYT Bestseller, The Barbecue Bible)
"When you simmer a stew, your friends don't gather around the stove. But when you grill, everyone gathers around, and the act of cooking becomes a party."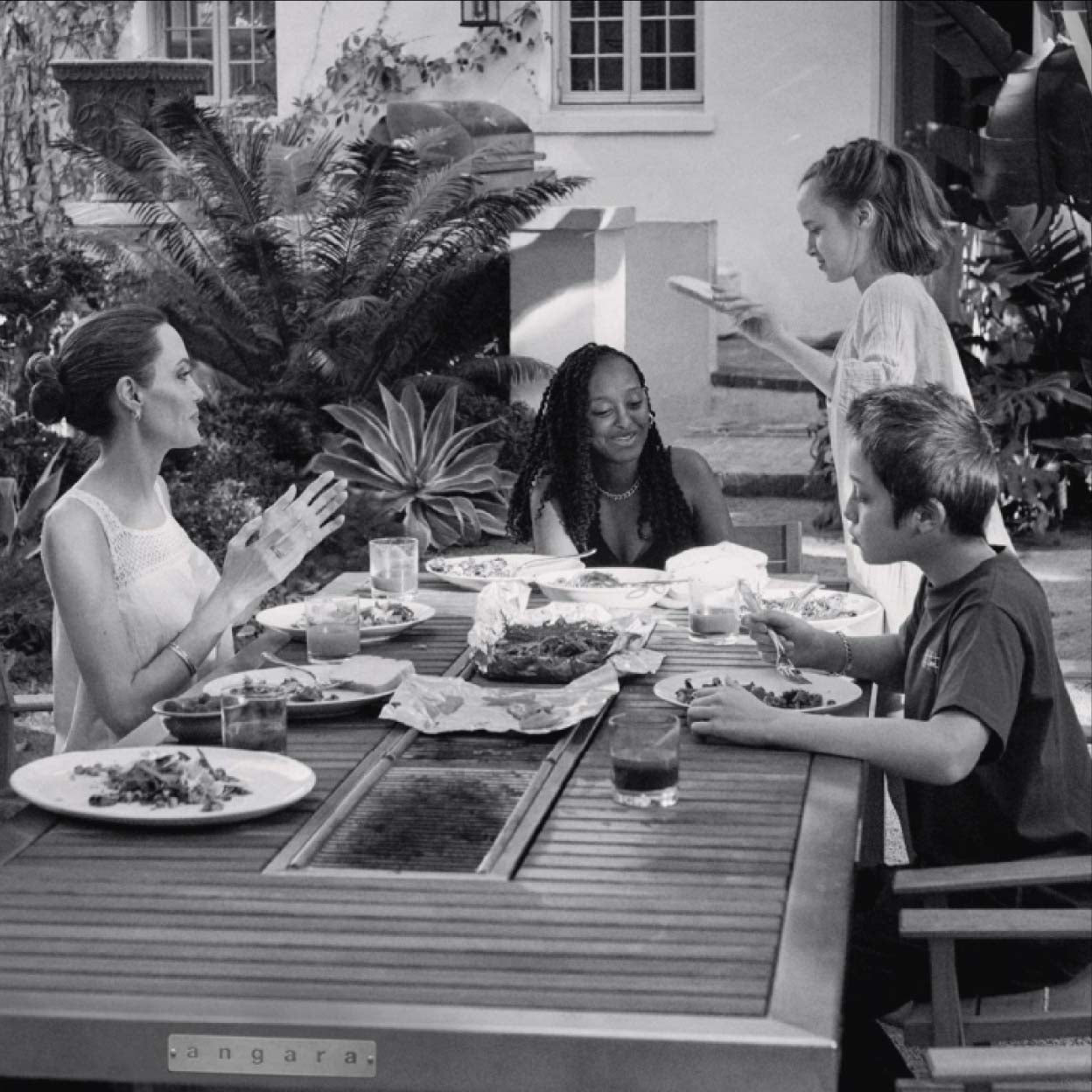 Angelina Jolie
Though not a direct testimonial from Academy award winning actress Angelina Jolie, this picture published in the March 2021 cover issue of British Vogue shows her enjoying a bbq meal around her Angara Maximus with kids Zahara, Vivienne and Knox at their Los Feliz, California home.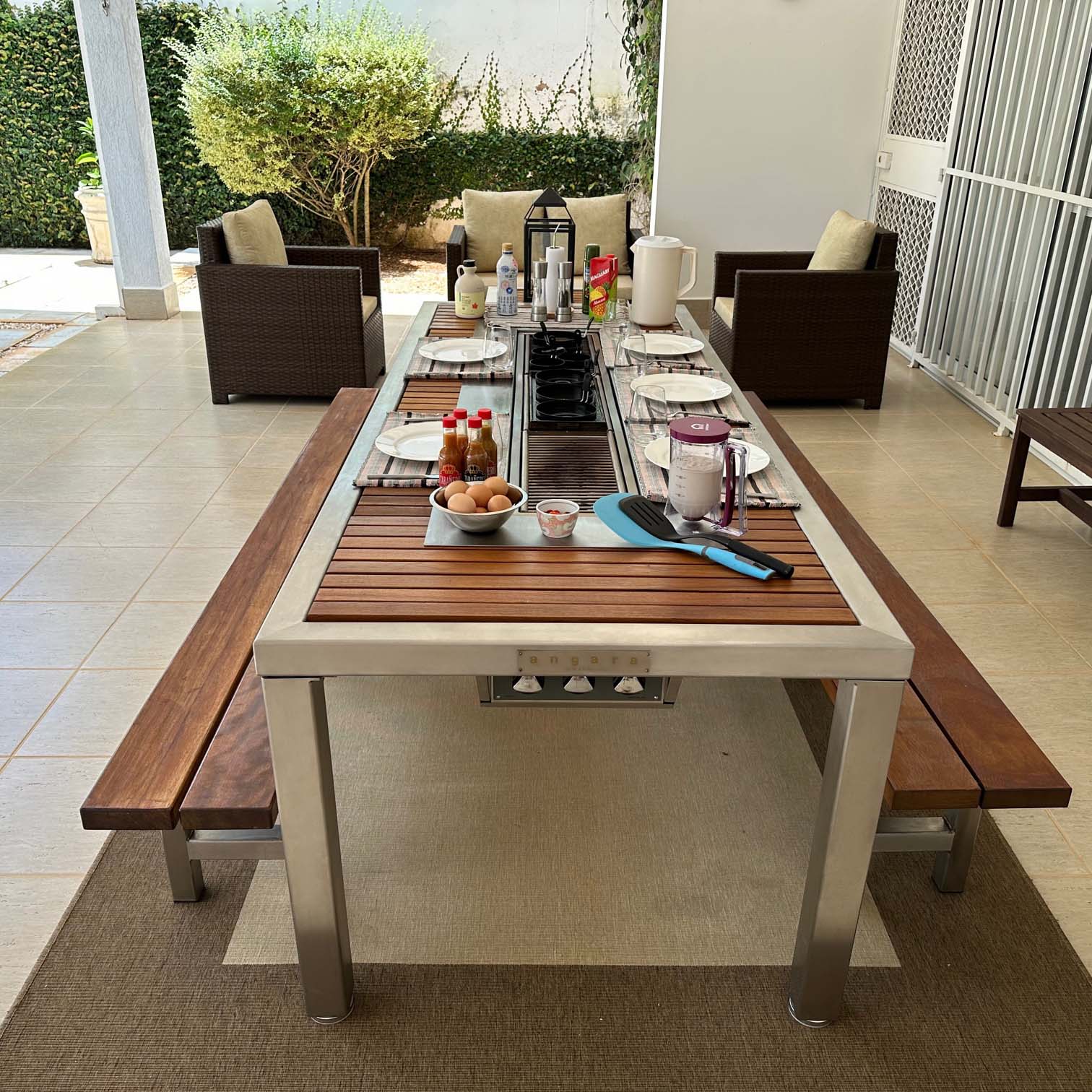 Barnet Harris
"I've yet to do business with a company so willing to accommodate its clients like ibbq, Inc. The hoops that their team had to jump through to accommodate my myriad requests was truly impressive! As a career military officer, I deeply appreciate an organization that shows such understanding and care towards its customers.
A few words about the product: I went for The Full Monty, their Angara Maximus with all the trimmings and I absolutely couldn't be happier!
Without question, this table is going to be the cornerstone of our social life in Brazil."
Chelsi Christensen
"I recently built a home on the seacoast of New Hampshire and created a cozy outdoor living space with a fire table, retractable screens, lots of seating, but the cherry on top is the Quadra grill table.
This unparalleled 8-person grill table enables people to have a sit-down, grilling and dining experience with their friends, rather than running back and forth from the grill to the table. No one misses out on the conversations.
The quality is very high end, and the amount of food it fits is surprising, and it's easy to clean. My friends have a blast using it and all want one as well. I love it!"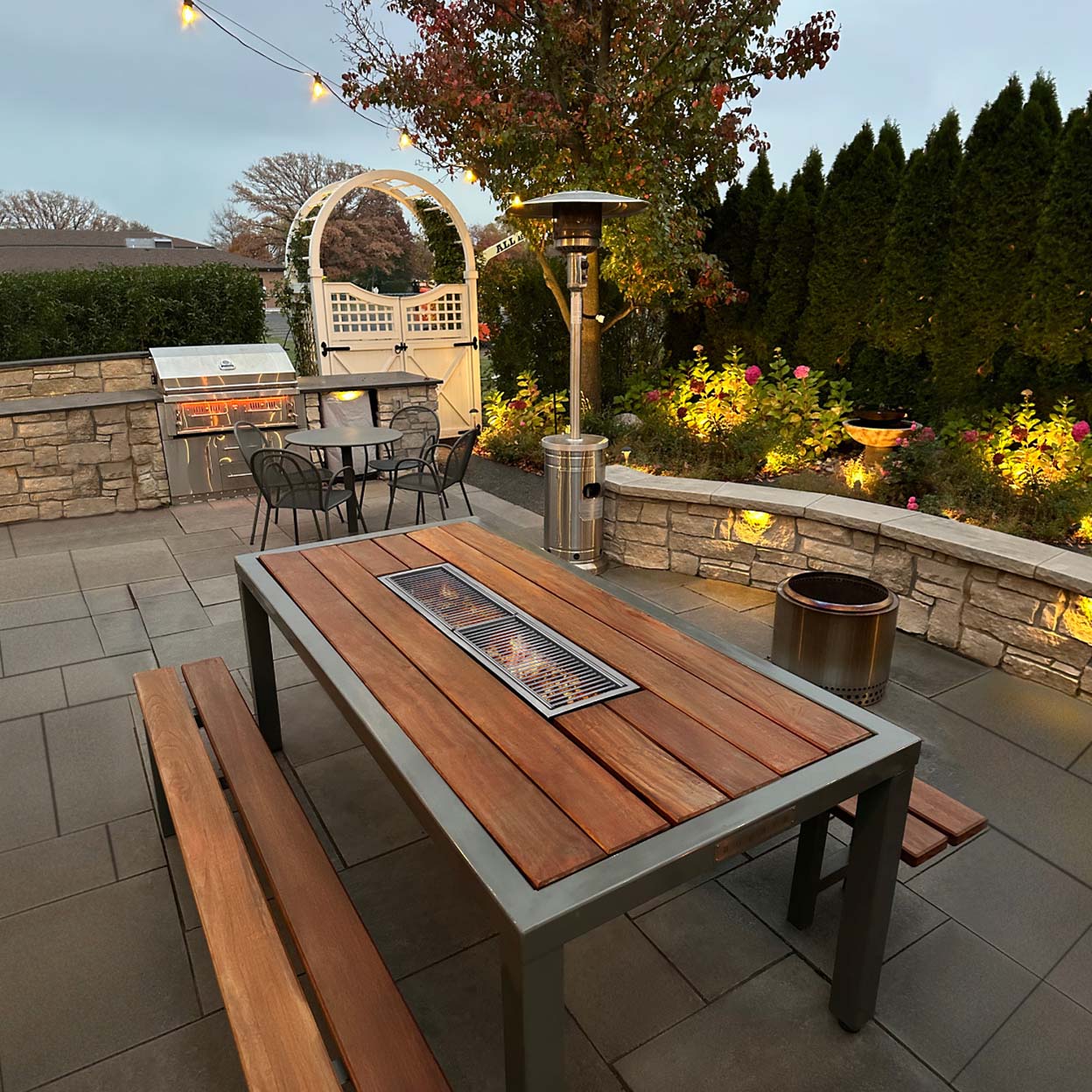 Joseph Lee
"When designing our outdoor space, I envisioned a dining table that could double as a heater for the colder nights in Chicago and we could also roast s'mores and grill Korean bbq.
I was thrilled to discover the Angara table and that it was made in the US. We enjoyed our table so much over the years that we recently purchased a second one for our cabin in Wisconsin."
Quan La
"The Angara is everything we hoped it would be — a well-constructed built-in table grill with an attractive design to match. It is the centerpiece of our backyard that continues to impress family and guests.
We grill meats together, chicken comes off the grates moist and tender; heat small soups, share fondue, and finish with smores — a surefire hit with the kids. After using it for more than a year, it still heats well and quickly
Stay up-to-date
Explore our blog.